As you prepare to reopen (or maybe you have already done so), read on to learn about the new contactless payment features from Flybook that tour operators, adventure parks and more can take advantage of. And the great news, they have more benefits than just social distancing. They are extremely convenient for offering upsells and providing a neat experience for families in particular.
Two main ideas when it comes to contactless pay in this context. First, there is the actual payment process (tapping a card to a terminal rather than requiring guests to touch it) when at a traditional register. And second, the concept of removing a credit card all together and instead storing it on a wristband for it to be scanned throughout your location/experience.
Let's address the second concept, first.
CONTACTLESS FOR UPSELLS
If you are a parent, you know how magical it is to find a place you can take your kids, where they are having fun, and you are having fun. And even more magical, when they can enjoy themselves independently with their friends.
If you are an operator, you know the value of adding revenue through onsite purchases and upsells.
The Flybook combined both of these goals when creating the new contactless payments feature, helping your destination remove contact - but also to become even more family friendly, and more profitable, than you already are. And, you will see an increase to the number of upsells your guests purchase onsite.
The idea is this: a family of four shows up to check in. Upon checking-in, your host lets them know about the various additional (and exciting) attractions, food and beverage, and merchandise options onsite. They then ask: Would you like to load up your wristband (or your child's wristband) with a dollar amount where purchases can be made throughout your stay here using your wristband?
In Flybook, you can now associate a credit card to a client record, and then associate that client record to the wristband so they can make purchases and payments with a simple scan of the wristband. The feature has some intelligence built in, so you can set a limit on how much can be charged on any given wristband and a date and time it will expire.
To charge the wristband, an app or handheld scanner is used to scan the wristband and process the purchase at the point of upsell (i.e. at the giant swing, or at the snack bar). This interaction is contactless.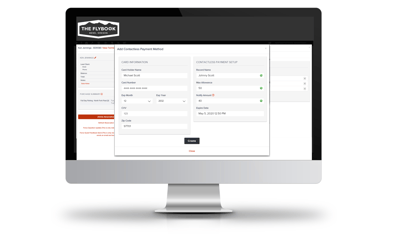 A few examples to take advantage of this:
Upsell an experience: An Adventure Park with additional features like a single zip, Giant Swing or Jump that are typically an upsell. Maybe it is typical for clients to bypass it (or they get it for free currently) – but if they are out in the park and decide to give it a try – they can just flash their wristband.
Sell more food and beverage: Because of how easy it is to purchase; more will decide to buy snacks and drinks.
REMOVING CONTACT WITH CREDIT CARDS:
Most clients have paid online in advance. For those that do need to make payments in person, they can do so with the EMV terminals Flybook integrates with, and maintain distance, by using apple tap pay. They also have the ability to make additional payments toward their reservations on their phone through their confirmation email. The host will see in their reservation, in real-time, when a payment is made and can keep their more nervous clients more comfortable that they do not have to interact physically with any sort of payment terminal or share their credit card physically.
This is one example of many for how we have been keeping busy during the time you have been shut down. We are hopeful to have a number of new features to help you rebound, and make your operational life better when business does come back. See the series of new updates HERE and contact support if you'd like to learn more!